We welcome you: to learn more about this extraordinary man, seek his intercession, and help us promote his fame of sanctity among family and friends.
His cause of canonization to move forward needs one miracle attributed to his intercession, for the Church to proclaim him Blessed, and another miracle to be declared a Saint. 
Those who knew Bishop Gallegos, highlight five personality traits of his:
His humility and gentleness, his constant joy and patience with which he lived the limitation of his sight, without ever complaining;
his kindness and compassion for everyone, even with those who hindered his pastoral ministry;
his fidelity to his Augustinian Recollect vocation, which his tasks as priest and bishop never led him to neglect. He always remained spiritually linked to the community, even when the service to the Church took him to a city where there was no house of the Order;
his commitment to the poor, especially Hispanic workers and immigrants who seek a better future in the United States and encounter alienation, oppression and injustice. He was a public voice that defended those most in need before civic officials.
his life of prayer, the basis of any other activity or aspect of his life; the Eucharist and love for the Blessed Virgin Mary under the title Our Lady of Guadalupe, and the many hours before the Tabernacle every day.
Bishop Alphonse Gallegos died on October 6, 1991 in a vehicle accident. Thus ended a life of service and love for God, found in the most simple and needy, always bringing joy to others.
In 1997, to immortalize his memory, a statue was built in his honor between the cathedral and the State Capitol of Sacramento, California, called Bishop Gallegos Square.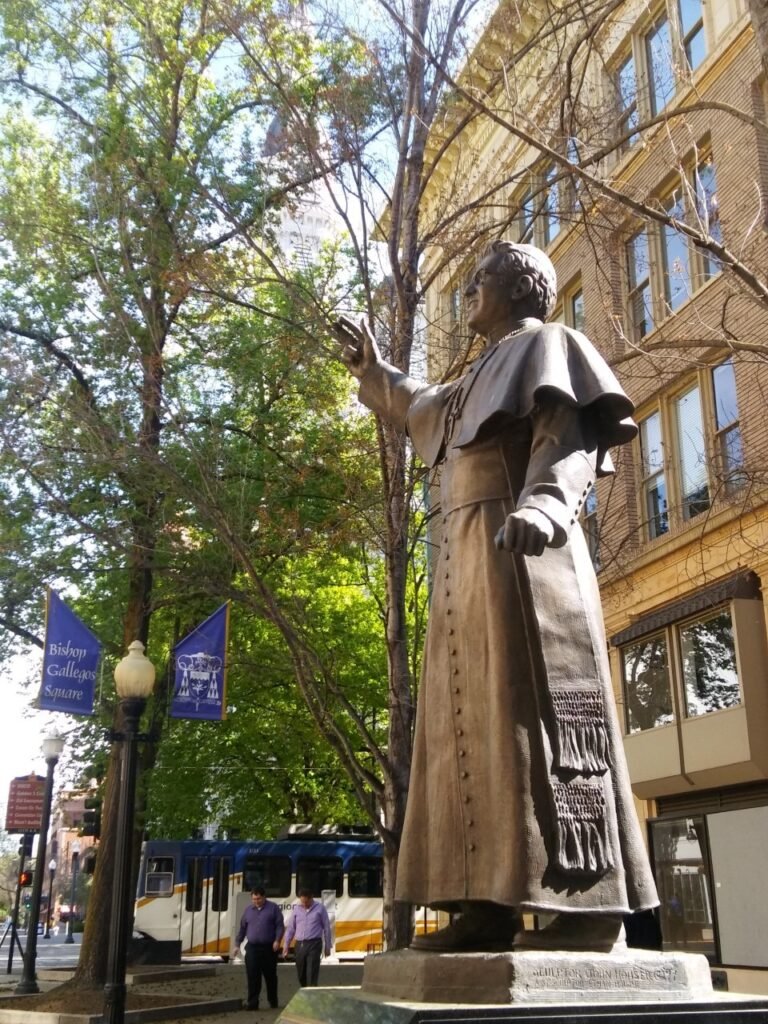 Get the latest news on the life, work and canonization cause of Bishop Gallegos.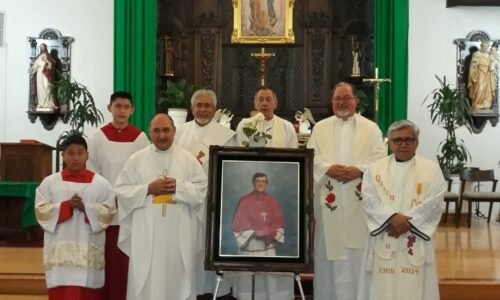 Fr. Eliseo González, OAR, Vice-Postulator for the Cause of Canonization of Venerable Alphonse Gallegos, former Auxiliary Bishop of Sacramento, shares his latest experience in...
Read More
Unborn with birth defect in the womb. R. was pregnant when she was informed that the child in her womb had a birth defect, according to medical records March 9, 2010, diagnosis: "Echogenic mass with multiple cystic structures within fetal right lung. This is most likely representing a Cystic adenomatoid malformation of the lungs. She was informed about the options of pregnancy termination, which she and her husband declined." After this finding R. and her mother prayed to Bishop Alfonso Gallegos during the pregnancy. The child was born healthy, without any birth defect.
Cured of Dry Eye Syndrome. For years now I have been suffering with dry eye syndrome, especially in my left eye. The eye would water, tear and I would develop a red rash under the eye and over the eye. My daughter is an eye doctor and she has given me many medicines, of which none seemed to really help. Other medical doctors also have diagnosed me. I was driving my car last week, and I have a picture of Bishop Alphonse under my sun viser. I reached up and touched the picture and asked him to help my eyes. I didn't pay much attention to it after that but about a week later, I noticed my eyes were not tearing. I also realized I hadn't used any medicine in that week. It hit me then, that of all things to ask help for, the EYES! What he suffered most with during his lifetime. To this date, my eyes have stopped tearing and watering and they don't itch or are not irritated. I know it seems like a small thing, but it is so significant to me. I just wanted to share this with you because I strongly feel he heard my plea, interceded for me and healed my eyes.
Eye Surgery Not Needed. My wife was scheduled for eye surgery to remove her cataracts. I made a novena to Bishop Alphonse Gallegos, O.A.R, prior to her surgery. The day came to see her doctor once again prior to her surgery; they examined her eyes and found that there was no need for the surgery.
Speedy Recovery from septic shock, respiratory and heart failure. She was hospitalized at East Los Angeles Hospital on December 2009. The diagnosis was: Acute respiratory failure, septic shock, congestive heart failure, pneumonia UTI. A family member took a priest to anoint her. The priest anointed her and prayed for the intercession of Bishop Gallegos. She recovered fully and was released from hospital two days after priest visited her.
Healed of open wounds. Paula suffered from 1997-2009 with open wounds on the bottom of her feet, which caused her a great amount of pain. During this time she visited specialist, had several medical procedures done and was given creams but nothing healed the wounds. After praying to Bishop Alfonso Gallegos her wounds were healed in a matter of weeks to her surprise and the doctors.
Finding a job. I had been unemployed for several months and was told about Bishop Alfonso Gallegos, that he could possibly help me find a job. Me and my wife prayed to the bishop and he interceded for me. I was able to find a job shortly after praying to him and have been working for a steel metal company since.
Clogged arteries. I was rushed to St. John's Hospital in Oxnard. They did some medical test on me and the doctor determined that I had some clogged arteries, which had caused a stroke. My primary doctor returned from vacation and ran another series of test and discovered that none of my arteries were clogged as was previously diagnosed. Me and my family prayed to Bishop Gallegos that my heart would be fine. I eventually did not need any surgery on my heart.
Passed GED Test. I prayed to Bishop Alphonse Gallegos to help me pass the GED test, in order to receive the equivalent of a high school diploma, General Education Diploma, (GED). I had taken this test several times but never got the right score. I have finally passed and will be graduating in the class of 2012. I am so happy!
Gallbladder surgery. I was scheduled to go for gallbladder and stones removal operation, I started to pray to Bishop Gallegos and my surgeon informed me that I did not need that operation. I am most grateful for the Bishop's help in my recovery.
Financial Issues. On December 13th I visited Saint Augustine Priory in Oxnard, CA and prayed before the former casket of Bishop Alphonse Gallegos, the one he was buried in from 1991-2010. I was having both legal and financial problems with one of my clients, since I own a contracting company. As I desperately asked Bishop Gallegos to help me with these matters I felt someone hug me. I believe this hug came from the bishop as though to tell me all would be fine. The next day I received a phone call from the clients I was having problems with, they wanted to settle the financial matter and we came to an agreement. I have recently been doing much better with my contracting company, more work hours. I believe this also to be a favor from Bishop Alphonse. I will continue to pray to him.